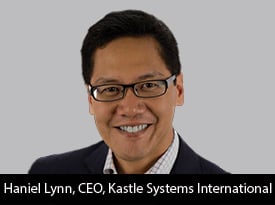 FALLS CHURCH, VA (July 29, 2019)– Kastle Systems International, the industry leader in managed security solutions and services, has been featured in the Silicon Review 50 Best Workplaces 2019list. Silicon Review's article on Kastle featured interviews with Haniel Lynn (CEO) and Mohammad Soleimani (CTO) on topics ranging from Kastle's path to becoming a disruptive force in the security industry and the strategies behind their expansion in service offerings over the years, to how embracing technology and fostering a team-oriented culture are key factors in the consistent growth of the company.
The Silicon Reviewis the world's most trusted online and print community for business & technology professionals. Their community members include thought-provoking CEOs, CIOs, CTOs, IT VPs and managers, along with jillions of diverse business professionals. The publication provides a neutral source for decisions makers to share innovative solutions developed by established industry players as well as emeging enterprises. It is where senior level buyers and decision-makers come to learn and also share their experiences in regards to products, technologies and technology trends.
Click here to read the full original article.
About Kastle Systems
Kastle Systems has been leading the security industry since 1972 with advanced managed security solutions and services, protecting the who's who of commercial real estate, distinguished global retail brands, leading global enterprises, educational institutions, and critical government facilities. Named the Systems Integrator of the Year for outstanding innovation and customer experience by SDM, the industry's leading trade publication, Kastle protects more than 2 million people across 10,000+ locations globally. Kastle's state-of-the-art security solutions include access control, video surveillance, visitor management and identity management, as well as a suite of mobile security applications, all integrated on an open, standards-based platform and supported by a team of experts 24x7x365. Headquartered in Falls Church, Virginia, Kastle is consistently ranked the #1 Security Provider in DC by the Washington Business Journal and is on CIOReview's 2018 List of Top 10 Physical Security Providers. Kastle also has offices in Atlanta, Austin, Chicago, Dallas, Houston, Los Angeles, Miami, New York, Philadelphia, San Francisco and Sydney, Australia. The Kastle Systems International family of security brands includes Kastle Systems, Mutual Security Services, Stat Land Security Services, CheckVideo and Urban Alarm.