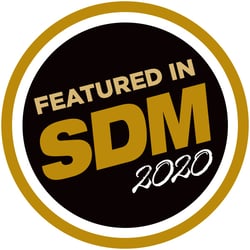 FALLS CHURCH, VA (March 11, 2019)– Kastle Systems International, the leading provider of integrated managed security solutions and services, has been featured in this month's issue of SDM Magazine in the article, Welcome to the Smart Workplace as a leading player in smart connected workplace security.
Today's millennial workforce is more connected than ever before. From universal WiFi and smartphone-based access credentials to finding parking spaces and seeing space usage insights, they expect more from their workplace. These new expectations are driving property managers to invest in smart security technology that integrates with their building so they can provide a seamless personalized experience in the workplace.
Security companies like Kastle Systems with open-standard architecture can more easily connect to other property-wide cybersecurity technology and building management platforms to thrive in today's smart building environment. Furthermore, the article points out how Kastle has already been positioning itself over the years to be a leading player in this space with it's development of an open-interface platform that easily integrates with other security systems and continues to innovate in cloud-based access security solutions.
SDM provides management and technical professionals with comprehensive coverage of the security channel for dealers and installers. SDM is the #1 security channel media with 100% BPA Audited buy/install circulation.
Click here to read the full original article.