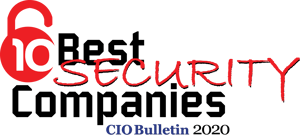 FALLS CHURCH, VA (February 19, 2020)– Kastle Systems International, the industry leader in managed security solutions and services, has been featured in CIO Bulletins' 10 Best Security Companies 2020 list. CIO Bulletin interviewed with Haniel Lynn (CEO of Kastle Systems) on topics including the impact of cloud computing on IT infrastructure and security, cyber risk management on physical security systems, Kastle's managed security as a service approach versus other security vendors and integrators, and their continued investments in technologies as they stay on the leading edge of security innovations.
CIO Bulletin is an interactive, preeminent leadership platform serving as a central resource for information on Business & Information Technology (IT) leaders and their entrepreneurial ventures. Leveraging the efficient use of IT Resources and coming closer to bridge the technology gap between the creator and the user.
Click here to read the full original article and click here to see the actual CIO Bulletin 2020 list.